"The closer you get to the magnificent veterans and their dependents, the more you realise how deserving they are of our support."
The words above are those of Anne Mellor, an amazing Volunteer Caseworker at the very heart of the RAF Association's support for the RAF community.
Every day, Anne and her fellow volunteers make a life-changing difference to veterans and their families. Connecting people to their local community. Making sure someone has the right welfare support in place. Helping people cope with health issues that can affect their mental wellbeing.
Without the expertise and devotion of our volunteers, many thousands of veterans, serving personnel and their loved ones would feel very lonely and isolated. We simply wouldn't be able to deliver so many essential services without them.
Colin was struggling to care for himself
Anne first met Colin in 2018, after he had been diagnosed with Motor Neurone Disease, a progressive illness which causes muscle wastage and weakness all over the body. Colin had worked for RAF Intelligence during the Cold War, with postings to Berlin in the 1980s.
When Anne first visited Colin's flat it was clear he was struggling to look after himself and his home – mainly due to weakness in his hands and arms. But at that time, he was still determined to keep working as a part time shelfstacker in a supermarket, saying he was "fit enough to work the bottom two shelves".
As Colin's condition worsened, he moved into assisted-living accommodation. But Anne noticed that his carers were only there to get him up in the morning and put him to bed at night. Concerned, she arranged for him to move into sheltered housing where he could get more support, whilst still living independently. Anne and her husband went above and beyond the call of duty, decorating the flat and transporting Colin's belongings. This is the kind of tireless dedication and care that our supporters continue to fund.
Anne was there for Colin's mum, too
While supporting Colin, Anne got to know his mum, Kathleen. In her 80s, she had been diagnosed with Alzheimer's disease and hadn't long to live. By now, Colin was in a nursing home, and so Anne arranged for Kathleen to live her final months there with him. The three of them became very close.
"We were like the three amigos," says Anne.
Colin passed away on Remembrance Sunday, 2019. Sadly, Kathleen's health deteriorated after that, and she passed away three months later. As Anne says,
"Colin said he was most thankful to the RAF Association for looking after his mum, because he wasn't able to do it himself. He was so grateful."
Our field force of 2,000 volunteers receive high quality, nationally accredited training that enables them to make a real difference to people's lives. Our training enables volunteers to help people access the most effective services for their unique needs, and ensure they receive the benefits they're entitled to.
But the fact is that we need to train many more caring volunteers, just like Anne, to meet the growing need for our support.
There are still too many veterans, serving personnel and their families feeling disconnected, vulnerable or unable to cope with life's difficulties. With the help of our supporters, we're determined to support and enable as many people as possible across the RAF community to meet the challenges of everyday life. Together, by training more incredible volunteers like Anne, we can ensure our RAF community are resilient, empowered and connected.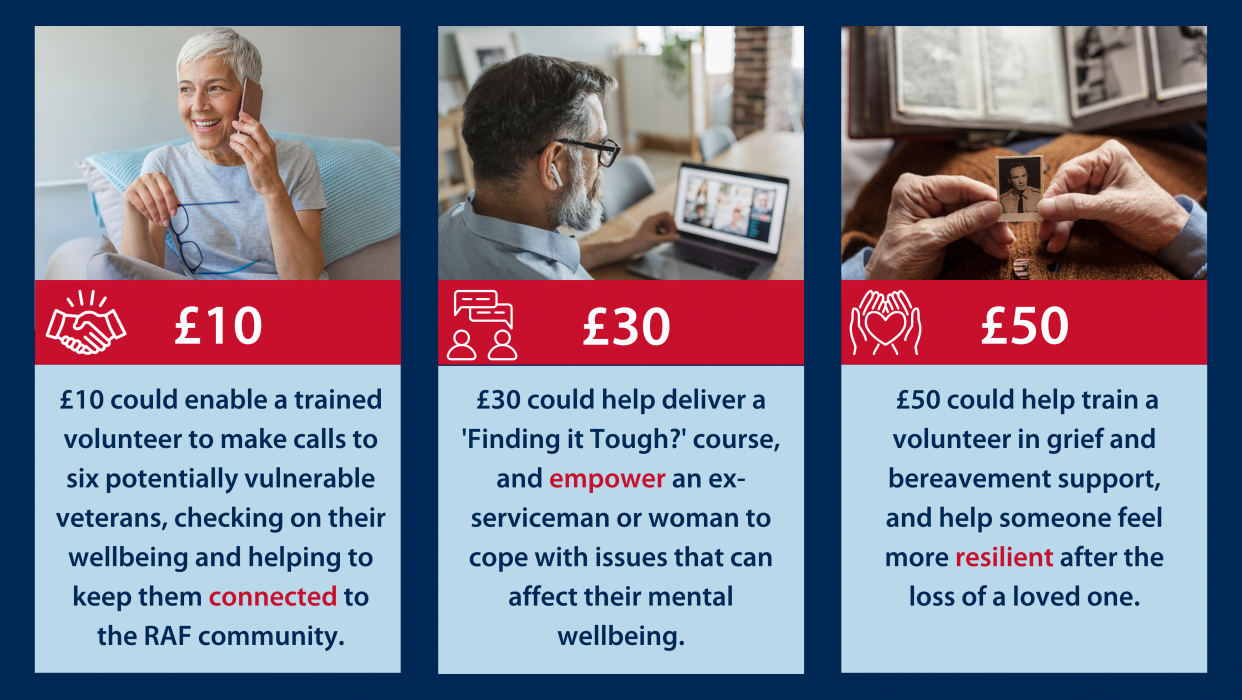 Support our Summer Appeal
To donate to our Summer Appeal and help us train more amazing volunteers, either call 0800 018 2361, or visit the Summer Appeal website by clicking the button below.