The RAF Regiment celebrated the 80th anniversary of its founding in spring 2022. To mark this, Nigel Warwick, author and Corps Historian, looks at why the Regiment was so desperately needed during WWII, and how its personnel in the Far East were trained to carry out their unique and specialist role. His article first appeared in the January to March issue of Air Mail, the RAF Association's members' magazine.
Prior to the Second World War the British Army held primary responsibility for airfield defence. Once the war began however, troops were desperately needed according to Army priorities – not those of the RAF – and few Army commanders had the manpower to spare.
For the first three years of the war the defence of airstrips was the responsibility of station and squadron defence flights of the RAF Ground Defence Branch. These operated very much independently of other flying squadron defence flights, and while they conducted patrols around their own aircraft, there was little tactical coordination with other flights or even with station personnel on the same airfields.
"I thought I would make a pretty good air gunner," remembers Leading Aircraftman Colin Kirby. "The officer at the intake base laughed in my face and said he would put me down for 'Ground Defence'. 

"All over the camp there were well-educated chaps and skilled tradesmen walking around with puzzled expressions 'What is this Ground Defence?'." 
Many of those who had dreamed of becoming pilots or aircrew, but who had instead found themselves in the unglamorous position of defending airfields, decided to seek a transfer. 
Above: Men of the RAF Regiment clear an obstacle of bamboo poles while taking part in a course on jungle warfare in Burma. © IWM CF 211
On the up
As had been demonstrated in France in 1940 and again in Greece and Crete in 1941, control of the air had become a vital factor in battlefield domination. Consequently, airfields had become important targets for enemy air forces and parachute troops. All too frequently RAF aircraft were being destroyed on the ground by enemy fighter sweeps and, with the successful invasion of Crete and the capture of key airfields by German paratroopers, it was finally determined that a dedicated Aerodrome Defence Corps within the RAF was required.
To fill this need, the RAF Regiment came into existence in the United Kingdom on 1 February 1942, with its manpower drawn from the old Ground Defence Branch of the RAF. Its personnel were to be trained to provide close defence of RAF assets against air and ground attack as well as offering an offensive capability.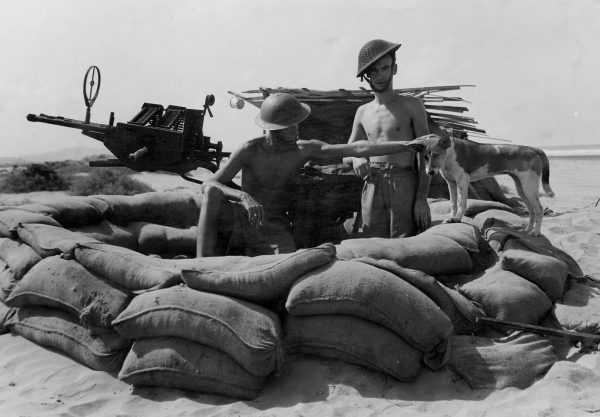 Two men of the RAF Regiment take a break from manning a Browning Light Machine-Gun; the heaviest weapon the Regiment possessed until the arrival of Hispano 20-mm cannon in mid-1944.
© Crown/Air Historical Branch
The story of the RAF Regiment in India and the Burma campaign begins in May 1942, when Air Headquarters informed the Air Ministry that additional defence flights would be needed by early 1943, and moreover, that there were a limited number of anti-aircraft (AA) machine-guns available for airfield defence.
The RAF Director of Ground Defence at the Air Ministry arrived in India in June 1942 to assess the situation. His report stated that ground defence in the Far East was undermanned and organised in a haphazard manner, with training of defence personnel virtually non-existent, and discipline in some cases sadly lacking.
All of Burma had fallen into Japanese hands only the previous month – May 1942 – and with only a few flying squadrons available, the outcome of the air war had never been in doubt. The ground defence of airfields in Burma in 1942 was also in a parlous state. While based at the airfield at Magwe, the RAF was attacked several times over forty-eight hours by large groups of Japanese aircraft. As the early warning system was extremely primitive and unreliable the raid caught most of the aircraft on the ground. No satisfactory AA barrage could be put up in response, and a large part of the RAF's fighter and bomber force in Burma was destroyed in a very short time.
Only a few days after the raid, the newly appointed commander of Burma Corps, General William 'Bill' Slim, flew into Magwe airfield. Arriving around sunset, Slim's Lysander circled the airfield waiting in vain for a signal to land. With no activity in sight, he instructed his pilot to land anyway, only to find Magwe deserted. Strolling freely among the only remaining RAF fighter aircraft in Burma he noticed a Burma Rifles truck which happened to be passing on a nearby road.
Slim hitched a lift to the RAF Wing HQ in Magwe town. There, he found everyone in good spirits. Slim suggested that it was "a bit rash to leave so many aeroplanes on a deserted airfield in the midst of a not too reliable population", but was told that safety of the aircraft was the Army's business.
Indeed, the Army still did hold prime responsibility for airfield defence in the Far East, though many of the Army troops allocated for airfield defence were not of the highest calibre. No provision had been made for airfield defence specialists trained to oppose an attack on the ground by high-grade enemy troops. Furthermore, as in other theatres, these troops were liable to be called away in times of crisis. Due to a lack of resources, the RAF itself could only assume the defence of its airfields with a few light machine-guns against low-flying aircraft.
Following the critical report of the Director of Ground Defence, Air Headquarters India took decisive action to improve the training, morale and effectiveness of the Regiment in India. Wing Commander J H Harris was appointed Command Defence Officer (CDO) and arrived in Delhi in December 1942. After a tour of inspection, Harris reported that most defence flights were badly equipped and in most places the men were being used as general "dogsbodies" and were "eating their heads off" in misemployment. In consequence, Harris drew together the 4,500 RAF ground defence personnel, scattered in disparate groups across the sub-continent, and arranged for them to be sent to a central training school. This would ensure consistent and higher standards of training for anti-aircraft and ground defence of airfields.
Moulding the Regiment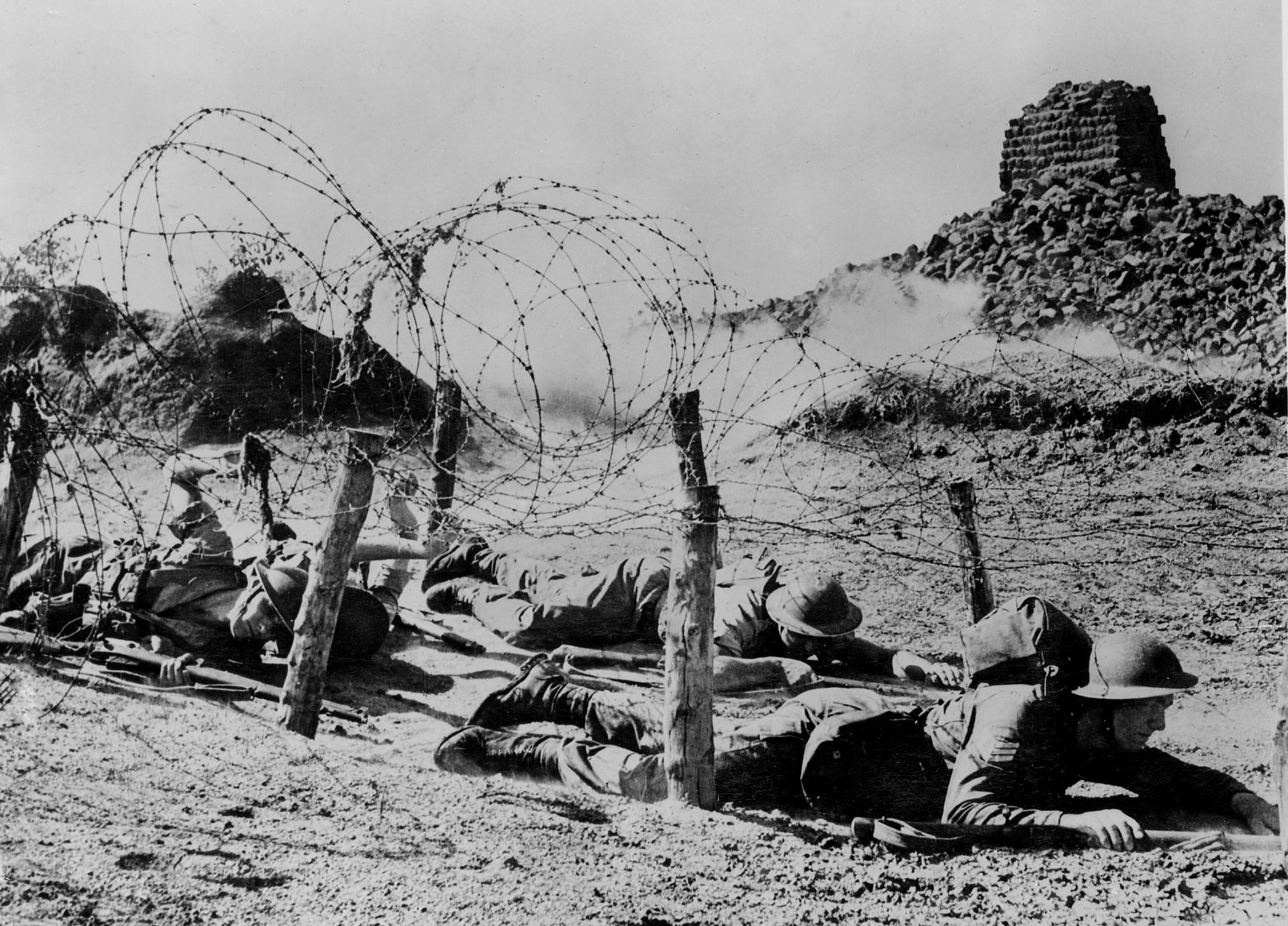 Airmen of the newly formed squadron and AA flights crawl under barbed-wire while attempting the assault course at the RAF Regiment Depot Secunderabad, July 1943.
© Crown/Air Historical Branch.
No 1 RAF Regiment Training School opened at Begampet near Secunderabad, India, in October 1942. Secunderabad was a garrison town and the area surrounding it was ideal for training, with very similar terrain to central Burma.
A three-week course was designed for blocks of ninety airmen with a capacity for three concurrent courses, or 270 airmen. The course provided instruction in the organisation, tactics and skills required for ground defence.
In keeping with any new venture of this kind, none of the necessary forms, manuals, weapons, transport or furniture was available. Nor was any time allowed for settling in, as the first airmen arrived almost immediately.
The welfare of many of the arriving airmen had also not been looked after, and morale was poor. Some were not even aware of why they had been sent to Secunderabad or of the formation of the RAF Regiment of which they were now a part.
Les Jewitt entered ground defence early in the war and had arrived in India during 1942. He remembers that there was a common feeling that the rankers had been sent to Ground Defence against their better judgment, most having been duped into defence flights after completing basic training. However, as one of the first airmen to be sent to the training school he soon came to realise that things were looking up for those in the RAF Regiment in India:
"The accommodation was immaculate throughout… greatly superior to anything I had so far found anywhere in India, and this seemed to presage well for the future of a newly-formed Corps which had aspirations of becoming an elite unit… The overall message that seemed to come through to all there for training was: raise your performance NOW and raise it to undreamt of heights!"
The course was made up of sessions of weapons training, field craft and field works instruction, and anti-gas and artillery classes. Night operations were also carried out three times a week. By November 1942 it had been decided that the month-long course was inadequate, and the first six-week course was started. The RAF Regiment airmen had to learn all the skills in defence and attack of airfields, radar and radio installations. By early 1943, additional exercises were being carried out in field signals, use of cover, machine-gun tactics, the individual and section stalk, sentry duty and fighting patrols.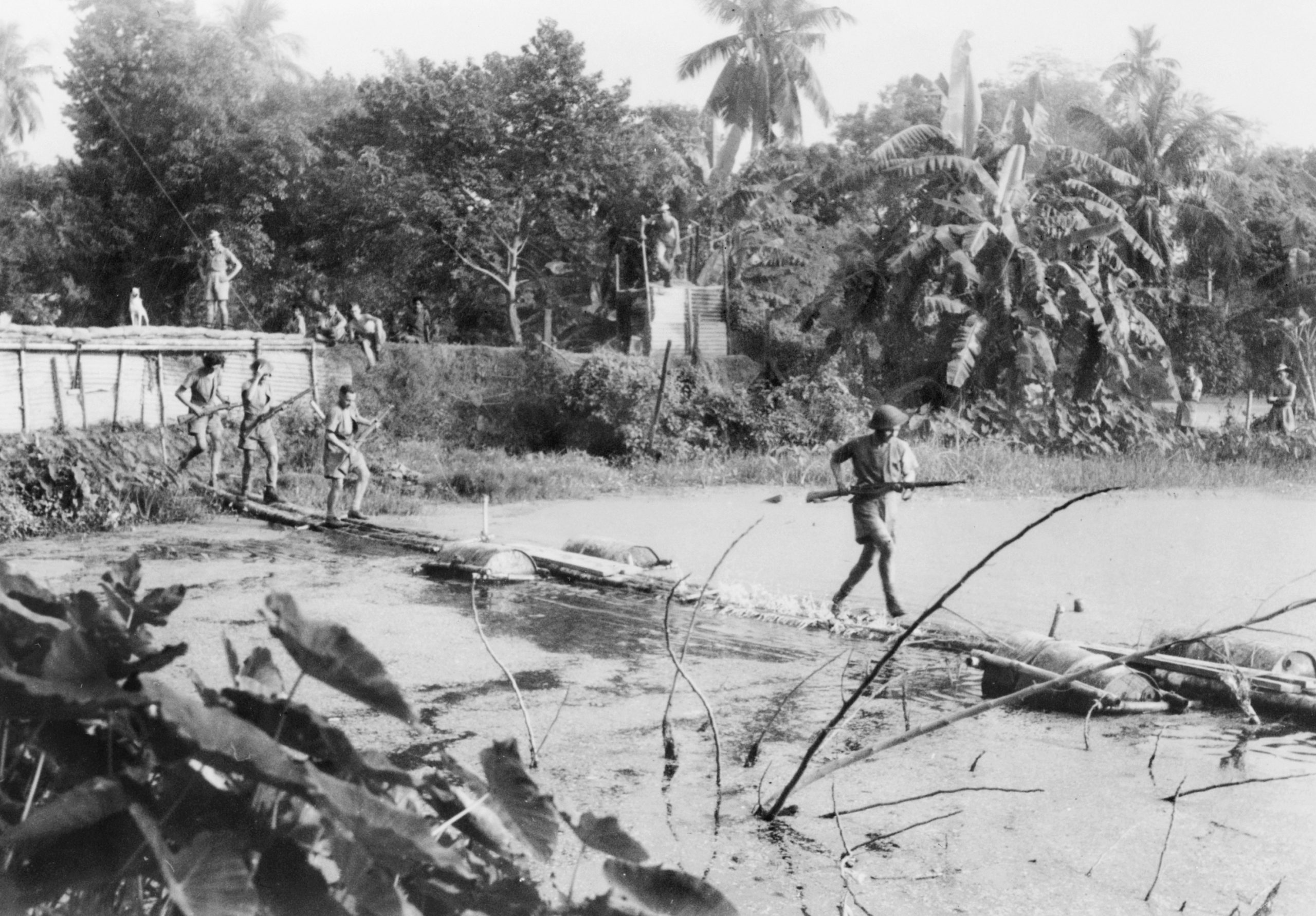 RAF Regiment personnel cross a makeshift bridge as part of the jungle warfare course.
© Crown/Air Historical Branch.
John Buckman had trained as an RAF Regiment officer in the United Kingdom. He remembers the training and route marches at Secunderabad and the high standards now expected of the airmen:
"We were put through rigorous training, including assault courses and up to 20 miles of rough rock walking in temperatures of 100 degrees Fahrenheit plus. After these gruelling marches, there were understandably a number who did not finish the course. In all, I consider that the training was more rigorous than Officer Cadet Training Unit training with the Brigade of Guards."
Colin Kirby, then with a Squadron Defence Flight at Koggala in Ceylon (now Sri Lanka), began to hear news filtering through of the training depot at Secunderabad. Men started to be posted there in fours or fives, then an RAF Regiment AA flight arrived from there to take over some of the area defence.
"We admired their bush hats and puttees," recalls Colin. "I received the call to go to the depot with five others. By this time everybody had forgotten about wanting to be anything but part of RAF Ground Defence. Calling us a Regiment would be fine." Soon after reaching Secunderabad however, Colin and his comrades were experiencing the tough new training regime:
"We went on long route marches, manoeuvres, rock climbing and swinging about and down the escarpments on ropes with kit and weapons. The country around the Depot was rough, undulating plain with high, rocky outcrops. I remember one day particularly well. We were out at first light and on the go all day marching, counter-marching, ambushing imaginary enemies, being ambushed in turn, all with full packs and minimum rations in torrid heat. [We were] climbing [and] firing weapons until we set off back to the depot. By this time we could hardly put one foot before the other, eyes glazed, faces caked with sweat.
"We looked like a scene from a melodramatic French Foreign Legion film and, as someone had the strength to mutter, he wished he had joined the Legion. Back to our bashas at last, collapse onto bunk… unable to move for a few hours. The next day back on parade, back on exercises. Relentless. Some men by this time were falling out and were posted away, others suffered with horrendous skin complaints.
"Some days we had to run miles with full packs and finish firing ten rounds rapid at a distant target with our Lee-Enfield rifle. Hands shaking, sweat stinging and filling our eyes".
The assault course at Secunderabad was both feared and revered, and was reputed to be the most exacting in India. This was proudly trumpeted by senior RAF officers at the time. To demonstrate the toughness of the new RAF Regiment, airmen would be sent through the course under the observation of senior Army and RAF officers. The Army officers who came to watch considered it tougher than anything the Army had and, moreover, unfair to ask men to attempt it.
The airmen would begin by crawling under a net 18 inches off the ground, then vault a three-foot high wall, move up to a seven-foot-six-inch high ramp, jump off with a front roll and climb over a further four-foot high wall. Then they would wade through a water tank and climb another wall, this time over ten-foot high, jump off with another front roll, double 50 yards, crawl under a car ramp, double another 70 yards and vault over barbed wire entanglements to five square holes, varying in depth and spaced at yard-and-a-half intervals. At each hole the men made a point with the bayonet at a dummy then dived under another net, ran through a long and winding trench filled with barbed wire and smoke, crossed a 15-foot plank and grabbed on to a rope from which they swung 10 feet over wire to represent swinging over a chasm. They then went on to a steel rope along which they moved hand over hand, on to another rope, also hand-over-hand, doubled 200 yards and then completed six bayonet thrusts at dummies.
Les Jewitt remembers the course well:
"The two outstanding features of the assault course, so far as I was concerned, were, (a) the smoke-filled trench, several feet deep, filled to waist height with muddy water and barbed wire entanglements both above and below water level (it would have been easy to get trapped below water in one of the deep holes criss-crossed at angles with trip wires), and, (b) the wall… eight feet or perhaps ten… It was a nightmare to scale after having traversed the other obstacles".
A Battle Inoculation or 'Blitz' Course with live firing was set up later. It was approximately 2,000 yards in length and the airmen were expected to move at the double all the time. The course culminated in a swim in full equipment through an 80-yard long tank. Bakelite grenades were tossed about and machine-guns fired live rounds on fixed lines at selected locations on the course.
In early 1943, the gap between the number of airmen required and the number available was untenably large. In the UK requests were already being made of the Air Ministry to cut numbers in the RAF Regiment in all theatres of operations. After much discussion, it was concluded that the Army would still be required to provide general and local airfield defence, assisted by the RAF.
However, RAF Regiment units were to be allocated firstly to those airfields accessible to Japanese ground forces, and then based on importance and location. RAF Station personnel were to provide the bulk of resistance, with the RAF Regiment – where provided – forming the hard-core of defence. They were to have particular roles in the provision of light anti-aircraft (LAA) defence, dealing with pockets of the enemy threatening RAF airfields and other assets and leading counter-attacks.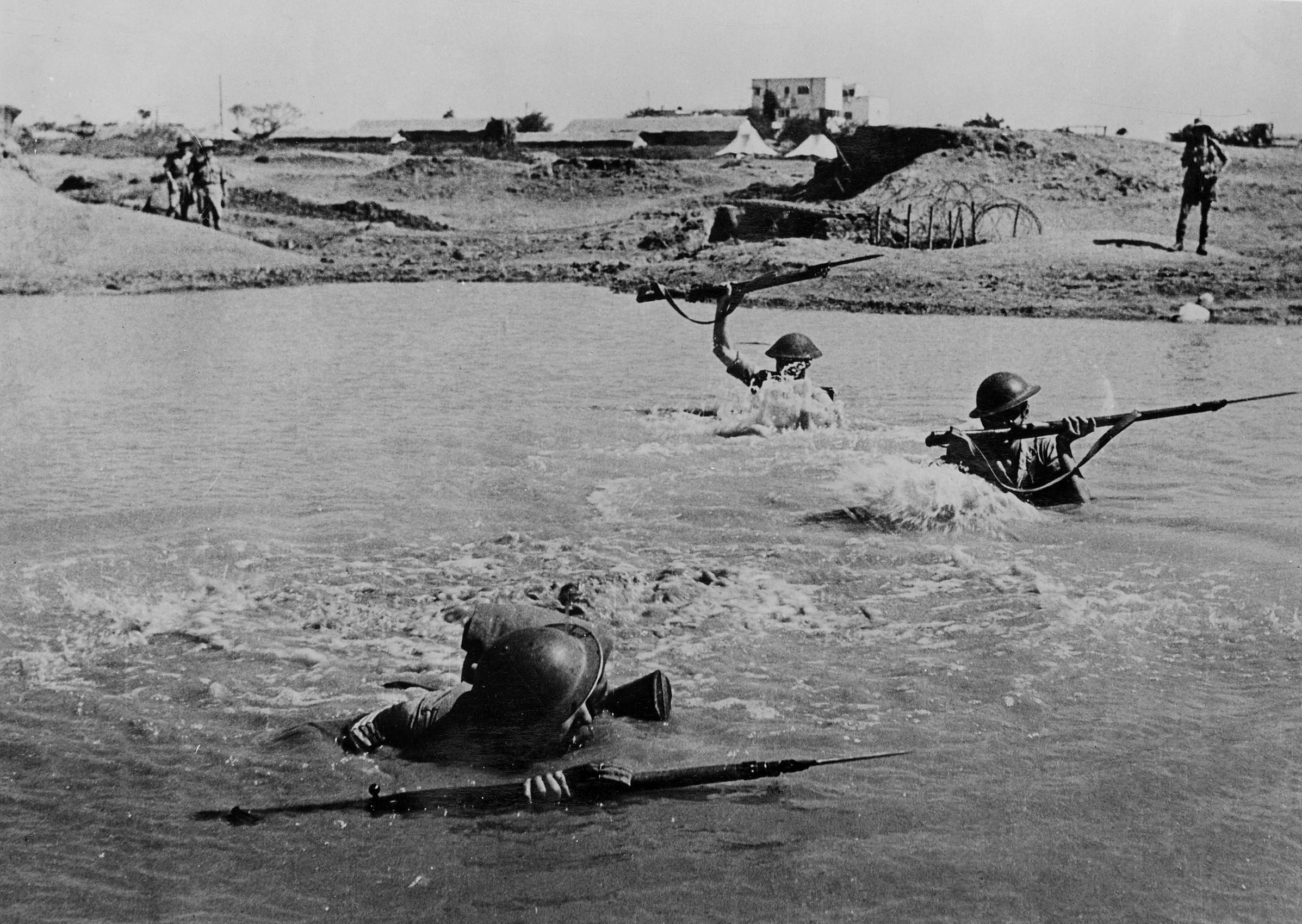 Airmen of the RAF Regiment swim with full kit across a tank forming part of the Battle Inoculation Course at the RAF Regiment Depot Secunderabad, July 1943.
© Crown/Air Historical Branch.
To implement the change to properly trained and equipped RAF Regiment units, the training school at Secunderabad was moved in March 1943, to a new and larger site a mile or so to the west of the old one. The number of staff also increased.
With the move, the assault and battle inoculation courses had to be created anew. As part of a task force charged with the construction of the new assault course, Les Jewitt remembers the glee he felt in having:
"…the opportunity of showing folks what an assault course ought to be like… we gave pretty free rein to our imagination in this respect, finally coming up with a course from which a number of obstacles were deleted before anyone even had the chance to try them! That still left one awesome course, though".
The new battle inoculation course simulated the complete field squadron in attack, and was designed to expose the airmen to nearby explosions and the firing of live rounds over their heads. Using machine-guns firing on fixed lines and gun cotton explosives set at intervals along the route, the course was by no means safe and casualties often occurred; even among the instructors.
More changes were still to come, but in just over ten months the RAF Regiment in India was transformed from a group of disparate flights of varying quality, experience and capability into a uniform and highly trained specialist Corps. Six Field Squadrons and sixty-two AA Flights had been formed and trained, and were to play an important role in the crucial battles for the defence of India in the Arakan and at Imphal.
However, it was the battle for Meiktila that arguably proved the worth of the RAF Regiment's tough training methods. A vital centre of Japanese supply and administration, Meiktila was captured in early March 1945 after a daring surprise attack by elements of General Slim's Fourteenth Army. In an attempt to retake the town, Japanese units lay siege to Meiktila, forcing the Allies to resupply it by air.
Men of an Indian Regiment on the offensive during the initial drive on Meiktila.
© IWM IND 4447 
The Japanese fully understood the need to recapture Meiktila and its airfield, and the Allied troops and airmen knew that it was surrounded and would soon be counter-attacked by numerically superior forces. With a limited number of troops the ground could not be covered completely, and the defence was therefore concentrated into six 'boxes' located at various points around the town.
To protect the now vital airfield, squadrons of the RAF Regiment were flown in and took their place alongside other British, Indian and Gurkha units inside a 900 yards square defensive box which overlooked the airfield. A routine soon emerged. Every morning the airstrips had to be forcibly cleared of Japanese troops and booby traps, every day the perimeter was patrolled to maintain security, and every night the forces defending the airfield returned to the box to prepare for the inevitable Japanese night attacks.
Over three weeks of strain and tension the Japanese came close to completely denying use of the airfield, but they were beaten back on each occasion by the dogged defenders. The successful defence of Meiktila was a significant milestone in the reconquest of Burma, and one of the RAF Regiment's greatest and proudest battle honours.
By the fall of Rangoon on 3 May 1945, there were fourteen field squadrons, nine LAA squadrons and eight Wing HQs in the field. The critical role of the RAF Regiment in the successful conclusion of the Burma campaign was eloquently described by Air Chief Marshal Sir Keith Park, Allied Air Commander-in-Chief of Air Command South East Asia, who said:
"…as the army units advanced, it frequently proved impossible, despite the presence of enemy troops lurking in the neighbourhood, to leave garrisons behind to protect the airfields they had overrun. The defence of the latter thus fell to the squadrons of the RAF Regiment. On their shoulders there thus rested the defence of the army lifeline".
The training these men had undergone, coupled with their own bravery, tenacity, and strong sense of esprit de corps, had played a vital part in ensuring the ultimate success of the entire Burma campaign.
Nigel Warwick is author of Constant Vigilance: The RAF Regiment in the Burma Campaign, published by Pen & Sword.
Air Mail
To receive Air Mail, which is the RAF Association's quarterly members' magazine, become a member  and opt for Air Mail as part of your membership.