Airshows 2022
The RAF Association is looking forward to seeing you at the following spectacular events.
Dates: 2-4 June 2022
Location: Ragley Hall, Alcester, Warwickshire. B49 5NJ
The Midlands Air Festival returns for a fourth year of excellent family fun as we commemorate the Queen's Platinum Jubilee!  This spectacular aviation
event will once again consist of Nightfire, Weekend Air Displays and Hot Air Balloon Launches! Plus there will be great trade stands, children's rides and more entertainment than ever before!
With main flying displays on Friday and Saturday, there is a variety of aircraft for all audiences! From helicopters, high energy aerobatics, warbirds, aerial ballet and fast jets, the Midlands Air Festival has it all!
Dates: 2-5 June 2022
Location: Paignton Green, Esplanade Road, Torquay TQ3 2NH
The full air display line up for the English Riviera Airshow has been revealed, with aerobatic teams, parachutists and classic aircraft joining the Red Arrows in a packed programme. The airshow takes place on June 4 and 5, with Paignton Green the base for the two-day spectacular.
The Blades display team top the latest list, which already includes the Battle of Britain Memorial Flight and the Chinook helicopter alongside the Red Arrows. Free-fallers from the Tigers Parachute Display Team and the Strikemaster classic jet will also be joined by the Pitts Special aerobatic biplane and two vintage Russian-built Yakovlev Yak 50s.
The Red Arrows will close the show on Saturday June 4 before taking off again on Sunday June 5 to open day two of the flying action. The free airshow, organised by Torbay Council with support from the English Riviera BID Company, is part of an extended four-day event for 2022 in celebration of Queen Elizabeth II's Platinum Jubilee.
Date: 12 June 2022
Location: RAF Cosford, Cosford TF11 8UP
RAF Cosford Air Show will include an action-packed six-hour flying display, including powerful demonstrations of modern military aircraft from the Royal Air Force and international military partners. There will be captivating appearances from iconic vintage aircraft from throughout the history of aviation and adrenaline pumping aerobatic displays.  On the ground, there will be a huge assortment of aircraft on static display for you to view up close, including some which you will be able to sit inside.
Dates: 18 – 19 June 2022
Location: Imperial War Museum, Cambridgeshire CB22 4QR
See and experience the excitement of an air show with our four-hour crowd favourite line-up including:
The world class formation display team, The Blades
Daring aerial acts from the Aerosuperbatic WingWalkers
The last remaining airworthy B-17 in Europe will take to the skies
A fly past from the world famous Red Arrows on Saturday (only)
Spitfire and Hurricane action in homage to Duxford's role in the Second World War
Dates: 24th – 26th June 2022
Location: Cleethorpes Prominade
The show will deliver a series of build-up attractions to truly promote civil / military integration and for the day have a full programme including parades, entertainment, flying displays and capability demonstrations to capture and build on public support for our armed forces community and raise awareness of the vital works done by the UK Armed Forces across the globe. This event will also demonstrate through very large public attendance the true resilience of the United Kingdom and our ability to recover confidence in hosting large public events in a safe and friendly environment at Cleethorpes.
Dates: 25 – 27 June 2022
Location: Marine Parade, Weston-super-Mare, BS23 4NJ.
Confirmed flying displays include:
Great War Display Team
Battle of Britain Memorial Flight
Airborne Pyrotechnics – Grob 109B
RAF Tutor T1
Team Raven
Gazelle Squadron
Yakovlev Yak-3
Slingsby T67 Firefly
Calidus Autogyro
Cheeky Champ Display
Aerosuperbatics Wingwalkers
The Blades
Pitts Special S1-S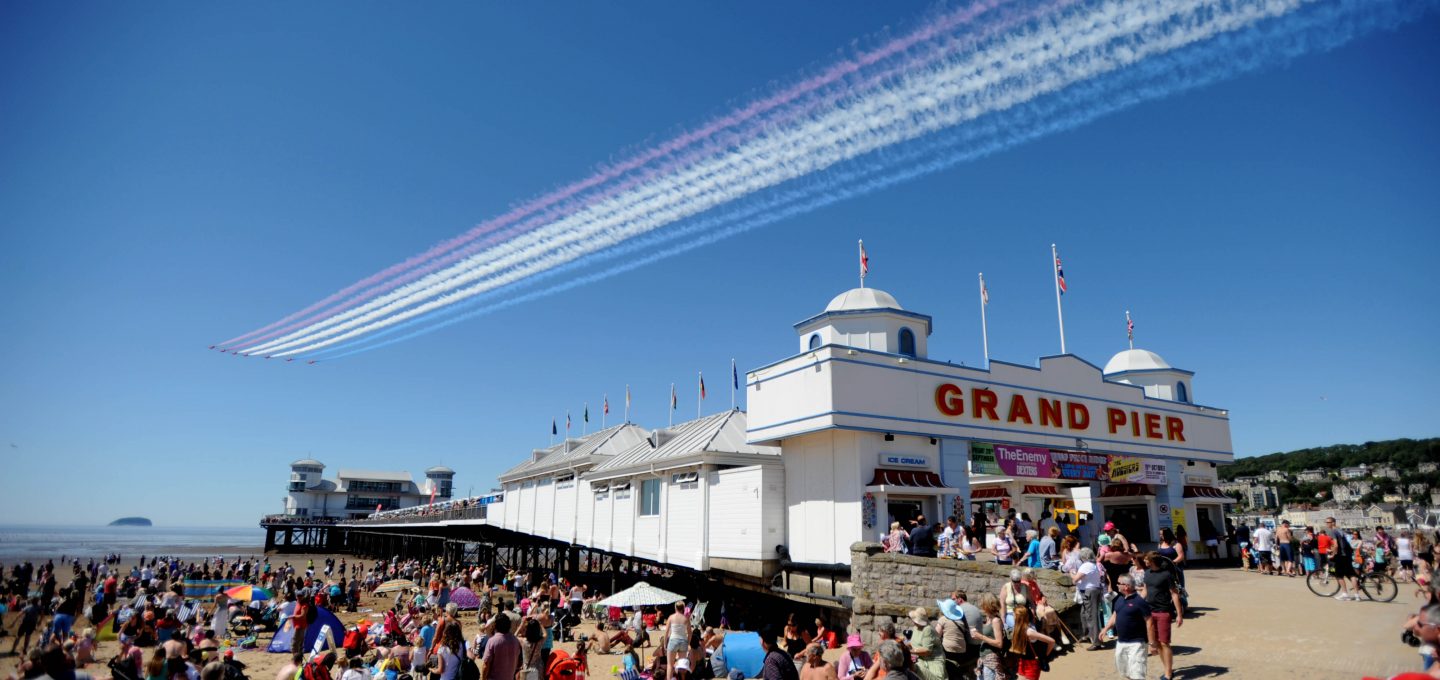 Scarborough National Armed Forces Day
Dates: 25 June 2022
Location: North and South Bay, Scarborough YO12 7TN
The Ministry of Defence has confirmed that Scarborough will now host the prestigious Armed Forces Day National Event in 2022. National event attracts is expected to bring in a record attendance of 100,000+ visitors of all ages during the course of the weekend. It will have an action packed event programme, including spectacular air and ground displays and an extensive military parade. Previous national events have attracted people from across the country and beyond, including VIP guests such as members of the Royal family and the Prime Minister.
Confirmed displays include:
RAF Falcons Parachute Display Team
RAF Red Arrows Display Team
RAF Battle of Britain Memorial Flight
RAF Typhoon
Dates: 2-3 July 2022
Location: Swansea Bay, Wales SA1 4PQ
Featuring breathtaking aerobatic displays, state-of-the-art military aircraft and vintage planes from the past, tens of thousands of visitors enjoy the Wales Airshow in Swansea Bay every year. Expect to see exciting air displays, incredible ground displays, entertainment and much more
Dates: 9-10 July 2022
Location: Marine Drive, Southport PR8 1RY
Confirmed for Southport Air Show so far are the RAF Red Arrows, RAF Typhoon, Battle of Britain MemorialFlight and the Turot Display Team.
Dates: 15–17 July 2022
Location: RAF Fairford, Kempsford GL7 4EG
The Royal International Air Tattoo is returning for 2022, better than ever! From 15-17 July, RAF Fairford will be buzzing with 170,000 excited visitors and the Cotswolds will echo once again with the thrilling sights and sounds of several hundred aircraft of all shapes and sizes, from all eras and countries of the world, gathering for this unique adrenalin-fuelled occasion.
Join us for a special celebration to mark the United States Air Force's 75th Anniversary and help us look to the future with our operational theme 'Training the Next Generation Air Force'.
Dates: 13-14 August 2022
Location: Blackpool Seafront, FY1 4BJ
The show will return for 2022 with some of the world's finest military and civilian aircraft performing over the iconic seafront. To complement the aerial programme, there will be plenty to see and do on the ground with a wide range of stalls, attractions and food concessions in the Air Show Village on the Tower Festival Headland.
Dates: 18-21 August 2022
Location: 3, Cornfield Road, Eastbourne BN21 4QA
Airbourne will celebrate 28 years of airshow excellence in 2022. Attracting huge crowds, Eastbourne's International Airshow boasts a 2 mile flying display line along Eastbourne seafront. Early confirmed displays for 2022 include the RAF Red Arrows, RAF Typhoon and Battle of Britain Memorial Flight.
Dates: 25-26 August 2022
Location: Clacton Seafront CO15 1RD
Join us over two days and enjoy thrilling flight displays and spectacular twilight flights (Thursday only) in the skies over Clacton's stunning seafront as well as a host of ground events on the West Greensward!
Dates: 27-28 August 2022
Location: East Parade, Rhyl LL18 3AF
The annual Rhyl Air Show takes place in the coastal resort of Rhyl in North Wales over a weekend in late August. The fun-packed program primarily focuses on demonstrating the UK's aviation skills. Additionally, you can observe aircraft displays on the ground and enjoy other family-friendly activities. This spectacular event is an ideal place to farewell warm summer days.
Dates: 1-4 September 2022
Location: Bournemouth Seafront, Bournemouth
Bournemouth will play host to the UK's largest free, air festival. Expect amazing displays on land, in the air and on the water too.
Dates: 10-11 September 2022
Location: Imperial War Museum, 425 Duxford Airfield, Cambridge CB22 4QR
In the air, on the ground, and even in the clothes you wear! The Battle of Britain Air Show returns to bring the 1940s to life. From vintage aviation and the stories of those who served at RAF Duxford, to living history groups and entertainment from the era. See historic Duxford come to life at one of the site's best loved events of the year.
Dates: 16-18 September 2022
Location: Goodwood Motor Circuit, Goodwood, Chichester, West Sussex, PO18 0PH
The aircraft at Goodwood Revival usually include wartime aircraft and around 30 pre-1966 aircraft on static display in the Freddie March Spirit of Aviation.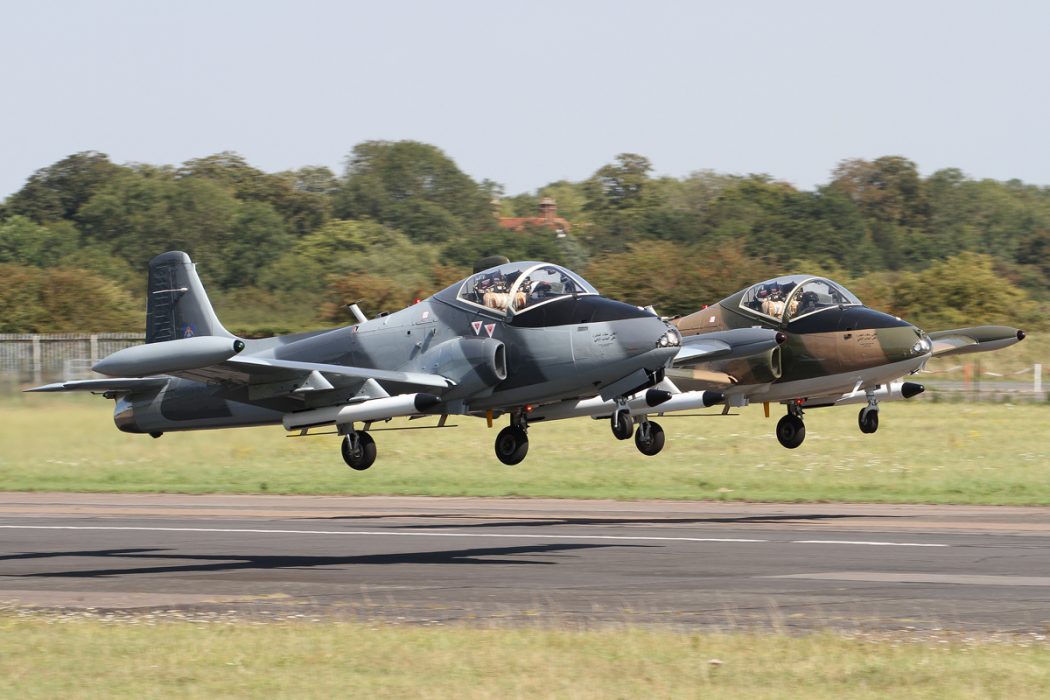 If you would like to show your support for the vital work of the RAF Association and aren't able to come and see us at any of these airshows, you can visit our online shop and buy some fab Red Arrows and Display team merchandise using the button below!